Jeg har nu malet modulet indvendigt, to gange med en lys grå olie maling. Malingen skal sikre modulet mod den fugt der er i luften, så træet ikke arbejder for meget og trækker sig ud af form.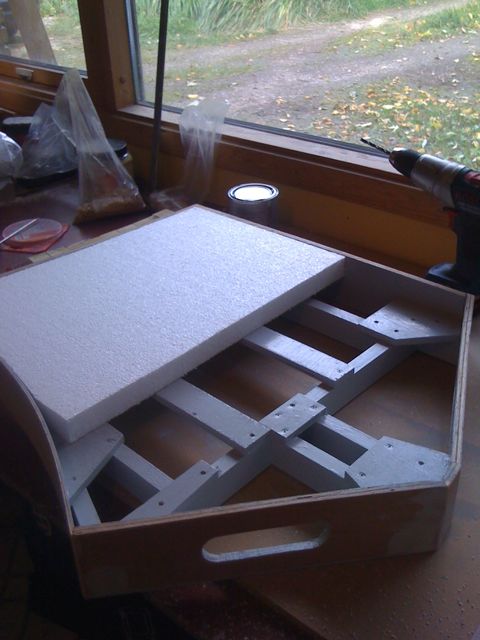 Ligesom kurvemodulet har jeg fyldt modulet med 40mm helt almindelig G60 flamingo. Hvorfor bruger jeg ikke styroform som ellers anbefales til modelbygning? Jo, af den simple grund at jeg ikke har fundet ud af hvor jeg kan købe det. Jeg har været i samtlige byggemarkeder i Hillerød, uden held.
Jeg har også tegnet streger der hvor modulets spor er planlagt, og med den lighed med forbilledet jeg gerne vil opnå, kan det vist ikke lade sig gøre at anvende standard spor og skift.
For at designe selvbygger spor skal jeg have anskaffet mig et andet layout program, da AnyRail ikke er godt nok til selvbyg. Det bliver så 3. gang jeg skal ud og investere i programmer til design af denne hobby. AnyRail anvendes dog stadig til den overordnede planlægning af banen. Lige nu går jeg og tumler lidt med at lave en fiddleyard, som man kan se under menuen banens layout.